Cyclocross

Cyclocross season is fast approaching but what is it? In a nut shell its for people crazy enough to turn up to ride around a muddy field in the early hours of a autumn/winter Sunday morning – so chances are if your reading this you'll on great with the regulars!
Events in the Ulster calendar begin at the start of October and continue until December culminating with the Carn Wheelers promoted championships in Drum Manor forest on the 14th. This year the series comprises 10 races, 9 rounds of the league and the champs race.
Cyclocross or CX racing generally consists of a 1 hour eyeballs out effort and then 1 more lap. CX is an exploit of all discipline racers looking to maintain fitness over the winter months, but there are riders who specialise in CX. All categories race on one day – one after another – with under 10′s, under 12′s, Youth, Juniors, Seniors, and Vets taking their start lines at different times so you can even make it a day out for the family. At a CX race, you'll find a great variety of racers on anything from mountain bikes with trainers to purpose built bikes with tubs. No matter what age or race you enter you will invariably end up looking like this…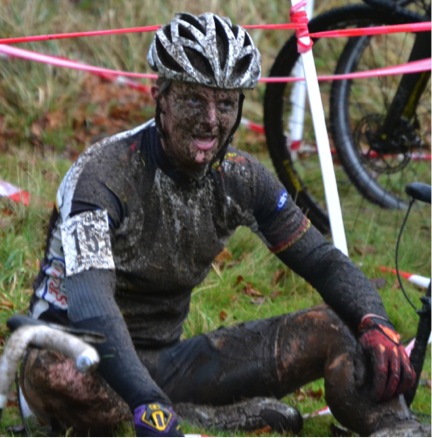 History
The origins of cyclocross are a bit muddy [pun wholeheartedly intended]. According to various sources the most popular story is that CX racing began in the early 1900s, one is that European road racers in the early 1900s would race each other to the next town over from them and that they were allowed to cut through farmer's fields, over fences or take any other shortcuts in order to make it to the next town first. This was sometimes called steeple chase as the only visible landmark in the next town was often the steeple. Rough ground made for a great way to improve handling, and short running sections served the purpose of aiding circulation to the hands and feet in cold months.
CX got serious in 1902 when the first French National Championships were held, Belgium followed suit in 1910. The sport spread outside the borders of France quickly, and the first international event took place in 1924, with Le Critérium International de Cross-Country Cyclo-Pédestre which was held in Paris attracting racers from far and wide. The UCI took over in the 1940s, holding the first World Championships in 1950.
The Course
Firstly – you're off-road – there will be mud, grass, sand… If you ride off-road regularly, that's no issue, and if you don't, you are going to have lots of fun learning!
The golden rules are to sit back in the saddle, choose a high gear and commit to ploughing through the surface in question – the faster you're going, the more momentum you'll gather and the easier it'll be. You can make like easy for yourself and try to pick a line where the mud or sand is shallower. Although it not just that easy….
Dismount & Remount
These are skill specific to CX. Many races have sections where you will have to jump off the bike normally where obstacles are in your path or in other cases you may find a muddy climb or deep sand box is just quicker on foot.
If you're new to the sport there is nothing stopping you just getting off and on the bike normally. But if you want to do it quickly the guys at GCN have produced a couple of videos to show you how to do it CX style:
So this is how to Dismount
And here is how to Remount
Please what ever way you get on and off, don't do this!
Cornering
Taking the racing line means entering wide, hitting the apex, and exiting wide. During a dry race it's fine to stick with this but lets face it, in Ireland in November what are the chances its going to be dry? Wet days mean wet races where the ground is going to be as slippery as a buttered eel. In this case it's better to look for a different line, sticking to the grass as opposed to sloppy heavily ridden muddy sections is a smarter choice…….but again this is CX and the rules are not always practical in the real world, the riders here who DON'T crash are generally on the outside…..cue the benny hill music!
2014/2015 Ulster Calendar
| | | | |
| --- | --- | --- | --- |
| Date | Event | Location | Host Club |
| Sunday 5 Oct | Round 1 | Lurgan Park | Apollo CT |
| Sunday 12 Oct | Round 2 | Lady Dixon Park, Belfast | Phoenix CC |
| Sunday 19 Oct | Round 3 | Windmill Park, Dungannon | Island Wheelers |
| Sunday 26 Oct | Round 4 | Bangor | North Down CC |
| Sunday 2 Nov | Round 5 | Moira Demesne | Dromara CC |
| Sunday 9 Nov | Round 6 | Seacourt, Larne | Team Madigan |
| Sunday 16 Nov | Round 7 | Ormeau Park TBC | Xmtb McConvey |
| Sunday 23 Nov | Round 8 | Falls Park, Belfast | VC Glendale |
| Sunday 30 Nov | Round 9 | Omagh TBC | Caldwell Cycles |
| Sunday 14 Dec | Ulster Champs | Drum Manor Forest, Cookstown | Carn Wheelers |
You can find more information on the CX website, www.ulstercyclocross.com
---
About
Copyright 2021 Carn Wheelers